Promotional Packed Lunch Boxes
Are you looking for a cost effective, practical promotional product with a large print area that is reusable? A simple branded lunch box given out as a gift will show not just your logo but also help educate people about
health and saving money.
Organisations who provide packed lunch containers for their staff or schools are actively demonstrating they are a caring company by supporting Government drives for nutritious eating and healthy lifestyles.
Encourage staff to bring their own healthy, affordable food to work by giving everyone a custom branded lunch box. Divided compartments keep fruits & salads separate, a cool pack will keep everything chilled and crisp, there's even room for a drink carton in the larger boxes. Avoid confusion in the kitchen by personalising lunch boxes with staff initials or department titles for a stress free lunch break!
School lunch boxes that are easy to open and store can be printed with details and a fun design that kids will love to carry. Smaller containers shaped for sandwiches or filled rolls are ideal for older students and fit easily into bags. Lunch boxes can even be used as pencil cases or storage boxes when empty, there are so many different uses!
For food industry promotional incentives, custom branded food storage containers are always sought after and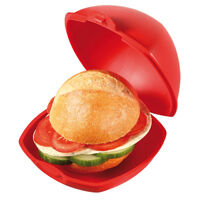 collected by consumers. Cafes who are also corporate or event caterers could have special offers combining a selection of ingredients packaged in a personalised case that can be reused by clients.
Our branded food containers are ideal for the Travel Industry and are practical giveaways for hotels and coach tours. Simple to transport and stack, easily cleaned and hygienic, they offer an alternative to wasteful cardboard or paper packaging for day trips or picnics.
For catering at summer events they can be used to provide souvenir food storage boxes for guests to take home with them after the event - and reduce mess!
Take a look at our selection of cool lunch boxes, we are always adding new products and can supply all shapes and sizes to fit your specific requirements. For more information and ideas on how to choose and brand the perfect lunch container for you, have a look at our Custom Lunch Box Page