What better way to start your day than by drinking your tea or coffee from your favourite designer mug – It really will make your drink taste so much better!
We have a new and exciting range of mugs that we must tell you about and, with the latest print technology available, custom branding your mug has reached new heights. Great for corporate giveaways, trade exhibitions, tourist attractions, educational organisations and so much more.
The Mug that is printed all over
Here is an issue we hear about from our customers time after time -You love the print design but the print dimensions of the mug are constricting. Well here is a revelation - have your full colour design printed over the entire outside of the mug! That's right, the All Over Printed Mug can be printed with your design over the entire body and handle
for an uninterrupted visually striking mug. You can order from as little as 36 mugs if you wanted to trial them and they are guaranteed, through independent testing, not to fade for 2000 washes and are 100% dishwasher proof.
The Stackable Mug
We really like these practical Stackable Mugs. An excellent solution for cafés, bars and restaurants, or wherever there is restricted space and you need a method to easily store your drinkware. Ideal for meeting rooms.

The mug can be printed with a Pantone matched body colour that will not fade in the printing process whilst the inside of the mug remains white for a nice contrast. You can also have a one colour print applied to the base of the mug to be a bit different. Available in Gloss or Matt finish and Neon with standard colours:
Green, Yellow, Orange and Pink in Gloss or Matt.
Metallic Mugs
Maybe it's time to consider raising your game and bring the bling to your mug? We can now offer you a matt metallic Gold, Silver and Bronze body colour, a perfect reward for your Olympian tea drinkers
Pantone Matched Spoon Mug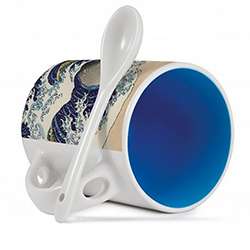 The very handy Spoon Mug is a clever concept. Why waste time searching for a teaspoon when a very nice one comes with your mug? The outside of the mug remains white and can be printed in full colour dye sublimation photo print. Pantone match the inner part of the mug in the colour of your choice with a gloss finish. The base of the mug can also be printed with a one colour print.
The Enamel Mug Pantone Matched
Our Enamel Mugs are beautifully made from steel with an enamel coating we can full pantone match as well from as little as 120 pieces.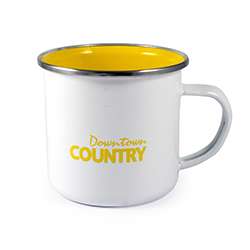 in addition we can also offer a full colour dye-sublimation print process gives you high quality images unobtainable by any other means. The mug has a contrasting steel lip and even the base can be printed with one colour print. We can also create enamels mugs colour matched inside or out to your own Pantone with gloss or matt finish to suit your brand completely.
The Colour Coated mug
Are you on the lookout for something that is going to stand out from the crowd? Then how about the Colour Coated Mug. Have your design etched onto the mug before being Pantone matched for greater depth to the design. The inside of the mug remains white whilst the outside can be Pantone matched to your choice of colour. Have the base of the mug printed with a one colour print. Available in a Gloss or Matt finish.
If you wanted to add a glow to your mug then why not have a Halo print effect put on the rim of your mug. This stylish finish is available on any of the screen print style mugs and can be printed in your choice of Pantone colour.
Americano Double Walled Takeaway Mugs
Americano Mugs are British Made takeaway style double-walled insulated drinkware made from polypropylene to keep your coffee hot on the go. Made in a white choice of colours styles and shapes with
an optional rubber grip we can print these mugs from one colour to a full wrap all over print. We also offer a choice of lids with a sliding cover or a sip lid and even one with a straw for cold drinks. The Americano
mugs come in 350 and 250 capacity and there is also a glass version and ones with handles
to see our new exciting range of drinkware
click on the link below