Embossed T-shirts Branding Method
Add new depth to your brand by choosing our innovative garment embossing process.

As a promotional merchandise distributor with a strong background in branded and bespoke clothing, we are excited to announce this innovative new garment branding method. Garment embossing is the process of moulding your design in 3D directly into the fabric of the garment in order to add depth to an otherwise 2D logo.

Now For The Technical Stuff!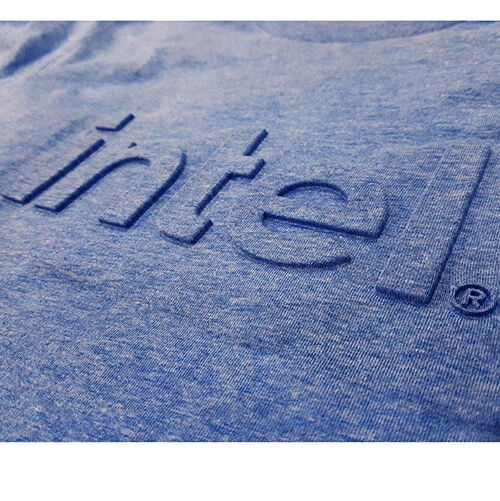 To kick things off, we use a single colour, vectorised design file as the template to make our steel mould. This mould is then created to the exact measurements required for your design, which then dictates positioning on the garment and surface area covered. The mould is created in 2 halves. One goes inside the garment and the other on the outside to create a "clamping" effect.

Next we produce a slightly larger, contoured template of your design to cover the areas where the steel mould creates the raised areas of your design. This shape is then screen printed with a special silicon base backing agent on the inside of the garment in your chosen position.

Once we've aligned the contoured print on the garment with the steel moulds, we apply a specific amount of heat and pressure for a set amount of time. These settings are dependent on the fabric we're working with. Different depths are achievable depending on your needs. Our factory has also managed to emboss applique (fabric) patches and stitch them to garments for more of a "varsity" look.




The combination of the heat and pressure hardens the backing agent into the shape of our contoured design and binds the fabric in this shape.
What's more we can utlise this method on T-shirts Hoodies and Jackets so its possible to brand your whole garment range with the same design.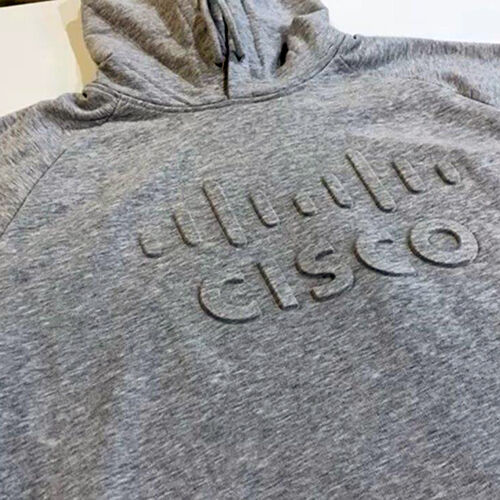 Typically this 3D embossing method is done without adding colour for a larger subtle branding style. However we can utilise special inks
to add colour into the design when its necessary to make the branding as bold as possible!

However, we feel this embossing technique stands up on its own, offering a classy finished result that offers a subtle, elegant tone on tone contrast effect.

We think this is another great leap forward for us to offer you high-end quality garments that your customers will love to wear. The embossing method of garment branding is a great new addition alongside screen printing and embroidery. We think it is an ideal solution for larger area branding requirements without compromising on quality and style.

Call us on 020 7442 2211 for a chat about garment embossing and what we can do to help you choose a design that works for your brand.