Regatta Honestly Made Sustainable Clothing
As an SME with a strong passion for sustainability and ethical sourcing, we believe sustainable clothing should be used where possible. With our Honestly Made range from Regatta you no longer have to choose sustainability over style. Below are some of the reasons to buy the Regatta brand.

Less Carbon: Regatta are comitted to reducing their garment's carbon footprint and one of the ways to achive this is by bringing garments in by railway.The Yiwu to London Railway Line is a freight railway route from Yiwu in China, to London, which terminates at Barking east London and covers a distance of 7,500 miles
Recycled: All Fabric is 100% recycled and made from plastic bottles as is the insulation for the jackets. Regatta have recycled over 2.3 million plastic bottles so far. In addition all packaging is recycled or partially recycled. Fabric comes from GRS (Global Recycled Standard) certified mills.
Giving Back: Regatta have set up an education programme for their female factory workers in Bangladesh, teaching them about hygiene, finance and nutrition. They've also opened a school for 4-14 year olds. 25% of which have either a physical or mental disability.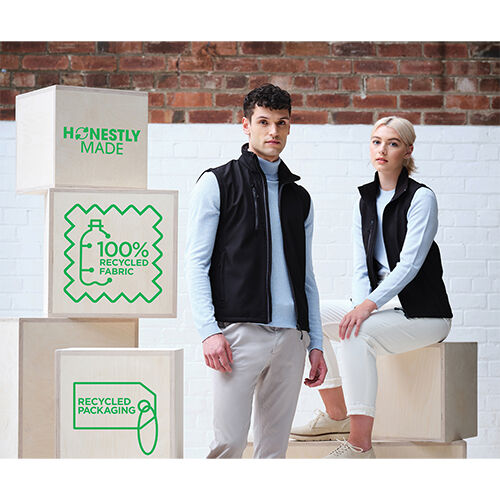 At Navillus we offer a wide range of sustainable and recycled clothing. In addition to Honestly Made from Regatta our range includes Earth Positive & Salvage from Continental and our unique Tiger cotton from Neutral.

Our Earth Positive range is 100% organic and produced in a factory running predominantly on wind & water power, thus reducing its carbon footprint by some 90%. Our Salvage range is 100% recycled and made from shredded organic textile cuttings and recycled plastic bottles. Our Neutral range is 100% organic and fair trade. The name Tiger Cotton comes from their initiative to convert non-organic cotton fields to organic and by doing so helping to maintain and restore tiger habitats.
The new Regatta Honestly Made range currently consists of 14 styles across jackets, fleeces and polo shirts including options for ladies. However, next year this is due to expand with some 100% recycled styles. These new garments feature the following:

100% Recycled polyester fabric, with a durable water repellent finish. The jackets are wind resistant and quick drying, lightweight and easy to wear.


Below is an overview of the current range of Honestly Made Clothing from Regatta. Please dont hesitate to ask us for more information on this range.
Recycled 3-in-1 Jacket With Softshell Inner
Recycled Insulated Jacket
Recycled Fleece-Lined Bomber Jacket
Recycled Thermal Hooded Jacket
Recycled Printable Softshell Jacket (Ladies style also available)
Recycled Fleece Jacket (Ladies style also available)
Recycled Micro Full Zip Fleece
Recycled Micro Half Zip Fleece
Recycled Thermal Bodywarmer
Recycled Printable Softshell Bodywarmer (Ladies style also available)
100% Recycled Polo Shirt
Take a look at our range of UK made sustainable clothing then get in touch for our expert advice or an ideas list for our full range. Send over your enquiry, and we'll get right back to you!
Just click on the links below or call us on 020 7442 2211 for a chat about what we can do to help you.