Inclusive Sizing: A Perfect Fit For Everybody
When you're handing out branded clothing to your team or customers it's easy now to ensure that everyone feels included by providing sizes for every body type.
The average distribution of clothing sizes in the population naturally follows a bell curve. According to worldwide sales data for mens/unisex t-shirts, most sizes purchased are mediums and larges (at (33% and 34% respectively), then extra-larges (at 18%), then there's much smaller numbers at either end of the distribution for smalls (8%) and XX-Larges (7%). People outside of that limited sizing scale, smaller people who fit XS clothing and plus-size people who fit 3XL clothing upwards, tend to be an even smaller minority. Unfortunately, in the past, these people were were often neglected as suppliers cut their costs by reducing the number of sizes they offered. Often if larger sizes were offered they would be available only in a limited range of colours or fabrics. Even to this day, despite the pressure to make manufacturing more sustainable, some of the larger garment manufacturers will only offer recycled fabrics in their standard small to XX-Large size range.
Nowadays, luckily, most brands are celebrating the reality that their customers come in all shapes and sizes, and in response more and more suppliers are going out of their way to cater for everybody and making sure no one gets left out.
At Navillus we invest a lot of time in sourcing stylish branded clothing that looks good on every body type. So here's our round-up of garment suppliers who take a more inclusive approach to sizing...
Anthem
have a t-shirt range available in a wide range of colours that go up to a 6XL (66/68" chest). They're a high-quality, ethical clothing brand based in the UK who have a commitment to sustainability. They don't use harmful dyes, substances or colourants in their clothing, they don't use swing tags, and only use plastic-free cardboard in their packaging.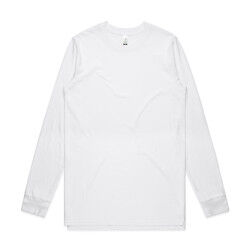 AS Colour
are another upcoming sustainable and high-quality brand with an incredible range of items available. Whilst they currently only have two products that cater to a 5XL, they are in the process of expanding their warehouse, meaning they'll be able to offer a wider range of clothing in a wider range of sizes soon.
AWDis
make classic hoodies and sweatshirts in a wide range of vibrant colours in sizes up to 5XL (62" chest).
BUILD YOUR BRAND
have a wide range of garments including t-shirts, joggers and sweatshirts that go up to a 5XL (62" to 66" chest, depending on the item), although currently the larger sizes are still only available in limited colours.
NEUTRAL
is a Scandinavian brand that focuses on social responsibility and the environment. Their organic cotton t-shirts and hoodies go all the way up to a 5XL. Their 4 and XL sizes are only available in navy, black or grey.
PRO RTX
offers a range of apparel up to a 7XL including hoodies and t-shirts. They also make polo shirts up to 8XL (68/74" chest) and trousers up to a 4XL.
STANLEY/STELLA
make garments in a up to 5XL (4/5XL in standard colours only)
UNITED BRANDS
make high-quality, sustainable hoodies that go up to 5XL, although the larger sizes are only available in standard colours.
Lastly we're always available to help if you have any questions about garment sizing: