Custom Branded Backpacks - Your Brand On The Go
Bespoke printed backpacks are a great way to put your brand out into the world. Our latest range offers a huge choice of styles and materials for every budget. Practical and long-lasting, backpacks make ideal gifts for staff and key customers. Now we have the widest range of bags that work for school children and students, all the way up to technical laptop bags with anti-theft security. If you cannot see the right style you desire then please drop us a line or call to enquire. Once we have a better idea of your requirements we will send you back a full list of backpacks that we can source for you.
Why choose a backpack?
Backpacks have become an essential everyday item for many people because they're the most convenient way to carry your stuff around comfortably. We've worked with manufacturers from all over the world to put together a wide range of high-quality bags for every occasion. But if you're a little overwhelmed by the choice we're providing this guide to discuss the various design considerations and help you weigh up your options.
Securing your valuables
One of the most important jobs for these bags is keeping the contents safe. That's why you'll notice many of our bags utilise water repellent fabrics to keep the insides dry, or padded compartments designed to protect a laptop.
Some of our bags are specifically made to protect the contents from thieves, so they include clever design elements such as:
Advanced cut-proof materials
No front access and/or concealed zip openers (including some with a clip lock on the pull tab)
Hidden pockets both inside and out
RFID protection to keep vulnerable items (bank cards etc) safe from electronic skimming attacks
Eco-friendly materials
We've sourced bags in a range of sustainable and earth-friendly materials, so you can choose from:
Natural and organic materials including cotton, jute, and hemp
Recycled cotton and denim (made from manufacturing off-cuts)
Resilient polyester and felt made from RPET recycled plastic (bottles and containers that would otherwise end up in landfill)
Perfect for branding
Backpacks offer a large, prominent area for custom printing. Whether you opt for subtle and discrete branding or an eye-catching all-over design, these bags are great for putting your message out into the world!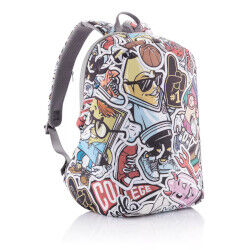 Backpacks for everbody...
We've got high-quality bags for every user, whatever their needs. Read on to learn about the various design considerations that might appeal to your target recipient...
School kids and students
These practical backpacks have enough pockets and compartments to organise everything you need for the day: books and notepads, stationery, laptop and lunch box. Plus there's always the option of bright patterns and fun graphics to add to the appeal!
Tourists and travellers
If you need a bag for when you're far from home then look out for these clever design details:
Anti-theft features
RFID blocking to keep your passport safe from electronic attack
Compact enough for use as carry-on luggage
Fashionistas
If you're after a practical bag but worried that a Day-Glo backpack might clash with your outfit, then we've got plenty of options for a more fashionable look: beautifully elegant bags made using high-end materials with a luxury finish - you can take them anywhere!
Urban adventurers
Stylish-looking bags to carry all the essentials when you're out on the grind:
Integrated USB charging port, combined with a power bank battery these let you charge your phone on the go
Convenient carry handle so you can hold your bag comfortably without putting your arms through the straps
Minimalists
Drawstring bags offer the ultimate in utilitarian simplicity:
Lightweight, durable and inexpensive
Unfussy designs ideal for use as a gym bag, swim kit or shopper
Foldable models that fold down into a compact pouch - small enough to pop into a pocket or hang from a belt until you need it
Cyclists and hikers
These models are comfortable for prolonged wear with soft padding and ergonomic designs that distribute the weight across your lower back and reduce the stress on your shoulders. Look out for:
Water repellent exteriors to keep the contents dry in all weathers
High-visibility fabrics that get you noticed and reflective safety strips for travelling safely on the roads at night
Bottle holders on the outside for easy access to your drink
Whatever you're looking for we can offer you customised backpacks for every budget. See below for a selection from our range…