Bic Promotional Pens Custom Printed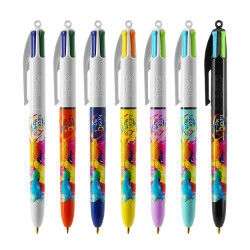 BiC products have a hard-earned reputation for reliability, durability, simplicity of style and affordability. But this pioneering and top-selling brand never rests on its laurels and constantly strives to innovate new products and new techniques for custom branding them. If you're looking for high-quality stationery and an effective way to promote your brand, then take a look below to see how BiC can help...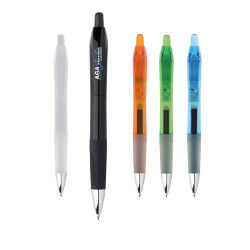 Full Range of Writing Instruments
BiC offers a huge range of products for all your stationery needs, including: Luxury pens, ballpens, roller and gel pens, highlighters and markers, pencils and mechanical pencils. Each category includes numerous variations, so there's something for every customer. Here's a sampling of their ballpens for instance:
Round Stic - Capped pen with a simple and timeless style
Clic Stic - The iconic click action pen
Media Clic - The latest iteration in a high fashion finish
Super Clip - modern capped pen with smooth lines on a prominent clip that's ideal for branding
Super Clip Advance - With a weighted metal section at the front for a perfectly balanced feel
Wide Body - Wide profile that sits comfortably in the hand and provides a larger branding area
Metal Pro - Offers metal accents on a modern design and a large metal refill
Cristal ReNew - A premium version of BiC's original World-conquering Biro, this metal ball pen keeps the classic hexagonal barrel and includes two refills
4 Colours - The World-renowned ballpen allows selection between four different ink colours in the same pen
Mixing and Matching
Materials: Once you've decided on the style of pen you can then choose the material it's made from. For most models BiC offers the option of standard or recycled materials, eco-friendly BIO/plant-based variants and the latest anti-microbial treatments.
Base Colours: Then you can give your pen a unique look by choosing its colour scheme. BiC offers over 100,000 component colour combinations at no extra charge - you can mix and match the barrel, clip/cap, the end-plug and nib-section.
Pantone matched colours are also an option - just ask us about your requirements.
Premium Finishes: BiC are always pushing the boundaries to bring elegance and style to their products. Their latest innovations include exquisite finishes for their writing instruments, including opaque, polished, transparent and pearlescent frosted finishes.
Accessories: Depending on the model there are other optional additions to functionality, including:
Lanyard - Allows the pen to be worn around the neck
Stylus - Soft pad on the end that can be used on a touch screen to provide superior precision compared to your finger
Softfeel - Cushioned barrel finish for a more comfortable grip
Ink: BiC's high-performance long-lasting inks come in a choice of four standard colours: black, blue, red and green
Packaging: Lastly, BiC gives you the option of selecting the individual packaging for each pen: eco sleeve, plastic pouch or window box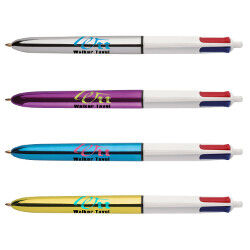 Custom Branding
BiC boasts superlative printing expertise gained from more than 50 years of experience, from traditional techniques such as screen and pad printing, right up to the very latest technologies, including laser engraving, and metallic inks.
They're also pioneers and innovators at the cutting edge of full-colour digital printing, and their proprietary Brite Pix technology allows them to apply sharp, clear, photographic-quality imprints to their products. Their latest innovation is Brite Pix Texture that adds a relief effect to your communication. These technologies gives BiC pens a 360 degree printing area ready for high definition photo quality printing in unlimited and enhanced colours. It's currently the gold standard for custom branding pens.
BiC and the Environment
Sustainable development has guided BiC's approach to Business for 15 years. Here's just some of the active efforts they've made to reduce the carbon footprint and environmental impact of their business.
Products are manufactured and printed in Europe, close to their customer base, for reduced shipping costs both environmental and financial.
Factory and print facilities powered by 100% renewable sources.
Developing schemes to collect used pens and recycle the materials into urban furniture, including benches, picnic tables and planters.

A More Sustainable Product Range
BiC now offers products and packaging made from sustainable materials including recycled and recyclable plastic and card, and paper from sustainable forests.
Their growing range of more eco-friendly stationery includes:
Ecolutions - Range of pens made from bio-based compostable materials where the raw input is organic plant matter such as sugar cane rather than the byproducts of fossil fuel.
Wood-free pencils - Made with recycled synthetic resin to reduce waste
Sprout Pencils - Include a plantable seed in the top from a range of flowers, herbs or vegetables. Once the stub becomes too small to write with, just push it into some soil and wait for the seed to sprout!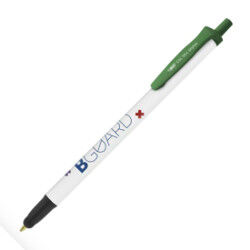 Responding to Global Health Challenges
In this ongoing era of Covid and potential future pandemics, BiC has been quick to develop technologies that address these new challenges. At the forefront is their BGuard range of anti-microbial products. These uses an all-over, permanent treatment that protects the pen against bacterial, fungal and viral hazards. They're ideal for use in healthcare and food-production/catering environments, but they're a sensible precaution for all manner of applications.

With BiC's help we can offer you customised solutions for your brand, with affordable prices and fast service. See below for a selection of related products from our range…